Written by Patrick Morley
Monday, September 05 2016 10:00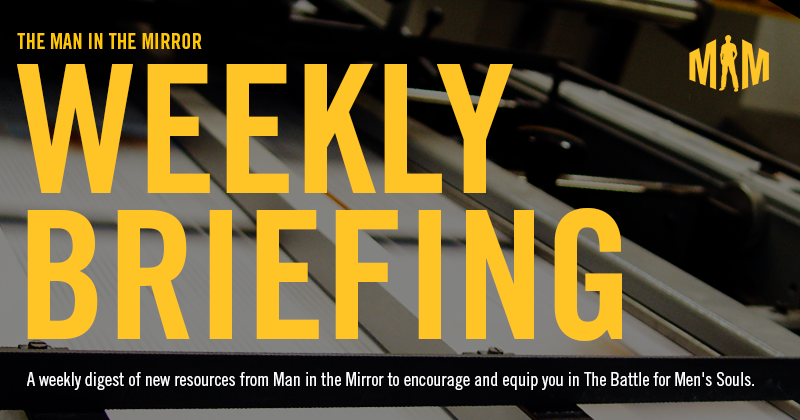 Here's what's new in the last 7 days...
No Man Left Behind 3D: Develop, Disciple & Deploy


Last weekend kicked off Man in the Mirror's first No Man Left Behind 3D event. We trained 81 leaders from 26 churches at Calvary Orlando, and each of these men returned to their home church armed and ready with a concrete plan to disciple men going forward.

You can read more on the blog post of this event here.

To learn how to bring this new training event to your area, click here.
---

Here's what's new in the last 7 days...
---
This Week's Video Bible Study...

September 2, 2016 | Finding a Deeper Personal Relationship with God
Imagine the doctor just told you, "I'm sorry, but you only have five weeks to live." What would be important to you? What would you want to do, and with whom? In this lesson we start delving into the five most important realms of a man's life. I'm going to start off by telling you the greatest lesson I've ever learned. We'll talk about how your life and legacy--whether 5 more weeks or 50 more years--can be filled with love, peace, joy, significance, purpose, beauty, worship, awe, great relationships, and leaving the world a better place. Join us. It's going to be a GREAT day!
The Big Idea: The turning point of our lives is when we stop seeking the God we want, and start seeking the God who is.

Click here to watch or listen to the Bible Study.
---
From the Blog of PatrickMorley.com...

September 1, 2016 | The Lord Is With You

Nothing but Scripture... In his heart a man plans his course but the Lord determines his steps. To man belong the plans of the heart, but from the Lord comes the reply of the tongue. All a man's...
---
August 30, 2016 | Are You Facing Something Enormous? The Big Idea From Asa

On any given day, most of us are facing something enormous. Something so large it seems endless, hopeless. Broken relationships, a family in crisis, aging parents, despair at work, financial...
---
August 27, 2016 | Cut Your Marriage Some Slack 2 Days a Week

In writing about what makes a successful marriage, family systems scholar Edwin Friedman said, "In reality, no human marriage gets a rating of more than 70%" (Friedman, Generation to...
---
---